Remote access
eLula facilitates remote cash-based transactions in transient and informal African contexts. Merchants are able to sell a variety of services and utilities, such as airtime and water, to customers on-the-go. For example, users queuing at taxi ranks, or drivers waiting at traffic intersections. It is a second-generation device which iteratively builds on user feedback and maintenance records from the first-generation device, as well as new technology opportunities.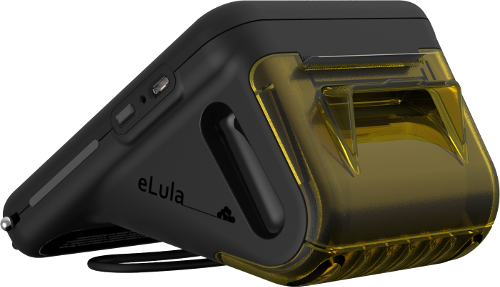 The device makes use of an electronic-ink (eInk) display and an enclosure that is waterproofed to IP67. It is also drop-tested from one-meter onto a concrete surface. The printer mechanism, which was recorded as a key failure point when the previous generation device was dropped, was redesigned with a nesting dampener to absorb impact. Another improvement was inspired by fieldwork observations, in which it was noted that failed printer pin-hinge doors were replaced with a paper bridging sticker. Using a similar method, a live-hinge was incorporated into the door resulting in a highly durable and flexible mechanism.

Although demanding environments emphasise mechanical design, industrial design also facilitates durability. For example, subtle finger nestle points were added to the eLula device to allow the user to grip the unit from a variety of positions and movements. Extending the device with accessories was not only concerned with sub-branding, and by designing-in a simple universal fixing point, the eLula encouraged the user to make use of a lanyard or strap. In effect, where mechanical design helped withstand impact, these ergonomic considerations helped subconsciously and proactively avoid drop impact.
---